ONU Genève, Beijing+25 - MMM was actively involved in the preparations for the CSO Forum that took place on 28 October, just before the UNECE intergovernmental meeting to review the implementation of the 1995 Beijing Platform for Action and the evaluation of progress on women's rights and gender equality in the region.
2020 will mark the 25th anniversary of the landmark Beijing Platform for Action (BPfA), which was adopted by governments in 1995 at the 4th UN World Conference on Women in Beijing. As part of the « Beijing+25 » review process, which will culminate in the next session of the UN Commission on the Status of Women at the UN Headquarter in March 2020, UN regions have launched regional review meetings, beginning with the UN Economic Commission for Europe (UNECE).
Under the motto #FeministsWantSystemChange, the Women's Major Group mobilized women's rights defenders across the UNECE region and led the organisation of the Civil Society Forum. Its main objective was to bring the voices of civil society and provide input into the UNECE intergovernmental process of reviewing progress on women's rights and gender equality since Beijing.
Preparing for the CSO Forum – Factsheet on economic structural barriers
MMM co-chaired with WIDE+ the working group that elaborated the factsheet on « Addressing economic structural barriers for economic justice ».
This factsheet is the result of a process that started in July and which involved various organisations across the UNECE region. The aim was to
Identify the structural Barriers to gender equality and women's rights that remain in the economic sphere
Highlights gaps in government efforts to address gender economic inequality as outlined in the BPfA
Make recommendations to governments.
The factsheet was finalized with additional input during the CSO Forum, and a statement reflecting a consensus of the group on the priority issues was delivered during the intergovernmental meeting on 29 October.
The factsheet brings the perspective of mothers, identifying
∙ The inequitable distribution of unpaid family care work as a major structural barrier to women economic empowerment
∙ Pregnancy, maternity, and motherhood as grounds for discrimination in the economic sphere
∙ Single mothers as among the most vulnerable to poverty.
MMM also put forward its recommendations to address these specific issues.

Factsheet on « Addressing economic structural barriers for economic justice »
Leading the Task Force Beijing+25 of the NGO CSW Geneva
In addition to its implication in the logistical organisation of the CSO Forum, MMM successfully obtained, under the name of the NGO Committee of Women Geneva, funding to allow the participation of 20 women's rights advocates from Georgia, Kyrgyzstan, Moldova, Tadjikistan, Ukraine and Uzbekistan.
MMM also coordinated the « Women's mosaic of lived experiences » video project, shown during the CSO Forum.
See also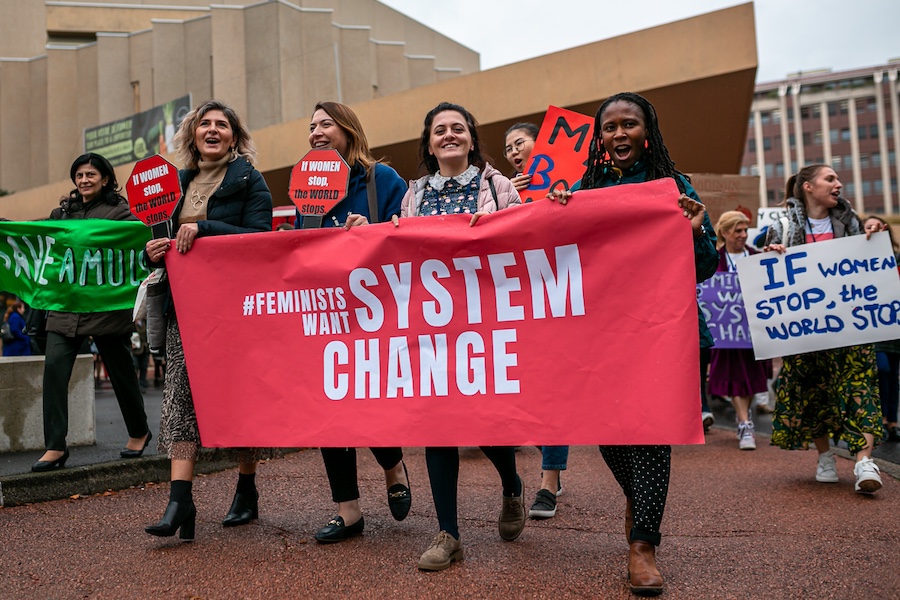 Additional information on the Beijing+25 UNECE CSO Forum is available on https://www.wecf.org/csoforumb25-geneva