From the 16-19th May 2016, Olalla Michelena, secretary general of Make Mothers Matter Europe delegation, participated at the fourth global Women Deliver conference which took place in Copenhagen.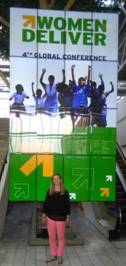 It was a high profile event attended by 5,759 persons from 169 countries including heads of State, politicians, ministers, academics, Heads of UN bodies, WHO and NGO representatives and women and girls from all over the world.
In fact, it was the largest gathering on girls' and women's health and rights of the last decade, and one of the first major global conferences following the launch of the Sustainable Development Goals (SDGs). Women Deliver Conference aim to provide an opportunity for women and girls to be recognised as 'untapped resources' and 'change makers'.
The focus of the 2016 conference was on how to implement the SDGs so they matter most for girls and women, with a specific focus on health – in particular maternal, sexual, and reproductive health and rights – and on gender equality, education, environment, and economic empowerment. There were 14 Core themes including:
Making the SDGs Work for girls and Women
Recommitting to maternal and newborn health
Banking on Women's economic empowerment
Accessing essential resources
Our objective was to participate to the sessions particularly dedicated to maternal and child health to identify good practices in these topics;