We were delighted to spot both a recent Financial Times article and a CBS TV Report covering a subject that plays right into our hearts and mission here at MMM.
Motherhood makes it into the Financial Times
'Mother Care', a recent Financial Times essay penned by journalist Emma Jacobs (see above snapshot), highlights three books on Motherhood. From work-family conflict to parental leave and childcare issues, the books look at how improving the way society treats parents and their children is in all our interests.
We want to thank Emma for giving a public voice to the topic of motherhood and the importance of care. This is what she had to say to MMM when we contacted her:
"The stuff that goes on at home is just as – or even more – important than the world outside. Yet caring is not valued. It is in all our interests for mothers and fathers to be supported through social policy and healthy work cultures"
US television network CBS spotlights mothers
CBS This Morning has just launched a four-part series called "The World of Mothers," which looks at what it is like to be a mother across the globe – from Europe to Africa and Asia.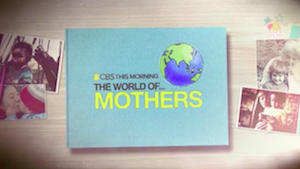 The first episode looks at the domestic scene for mothers grappling with unpaid maternity leave – as lawmakers in the US eye a change. The second one looks at what motherhood is like in Finland where it costs less than $60 to have a baby (in the US the average natural birth costs over $12,000).