Emotional intelligence is a vital skill that helps people build healthy and fulfilling relationships, maintain their mental health, make good decisions, and develop leadership skills. Unfortunately, emotional intelligence is often neglected in education systems and teaching methods because this kind of intelligence isn't always available to parents.
That is why MMM is pleased to announce its collaboration with La Granja Ability Training Center to provide families with online Emotional Wellbeing resources. The first episode: "The Perfect Family Syndrome" was launched in 3 languages (ES, EN, FR) on March 30, 2023.
Family relationships can be as complex as they are wonderful. Through this collaboration, MMM and La Granja aim to provide parents and families with the resources and tools they need to ensure an emotionally intelligent education as their children grow. This video series will help family members heighten their self-esteem, balance their emotions, communicate with each other, and strengthen family bonds by building trust and questioning perfectionist expectations.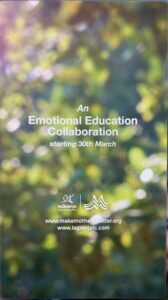 La Granja and MMM are combining their expertise in family dynamics and health to develop this series.
La Granja is a centre for school camps that has been working to improve the personal and social abilities of school-age children for almost two decades. La Granja has developed a unique, certified method for developing emotional competencies in young people. MMM is therefore delighted to partner with them in sharing valuable insights with families around the world.
The following topics are covered in the videos
 The Perfect Family Syndrome
Demand vs. excellence.
Emotions – allies or enemies?
Overprotecting is underprotecting: 8 tips to burst the bubble
Preoccupation versus occupation: what do you choose?
Impatience and 0 tolerance to frustration
Weakness or vulnerability – for a Human Education
When anxiety and stress rule, how does it affect our children?
Joy or happiness: the danger of confusing the two
The pressure of success
If you or someone you know is interested in finding out how to use these tools on emotional education for strengthening family bonds, please see the resources link below.  There will be a new episode every Thursday at the end of each month.
The first episode: "The Perfect Family Syndrome" :
EN, FR, ES