UNESCO - The G7 and UNESCO host Paris International Conference to mobilize support for girls and women through quality education and empowering learning opportunities for life and work.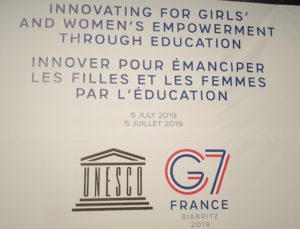 Policy and decision-makers, including education ministers, addressed this priority concern in preparation for the August G7 summit of Heads of State and Government.
Education ministers from the G5 Sahel countries (Burkina Faso, Chad, Mali, Mauritania, Niger) and Senegal joined their G7 counterparts. UNESCO Director-General Audrey Azoulay opened the Conference with France's Minister for Europe and Foreign Affairs, Jean-Yves Le Drian and Education Minister Jean-Michel Blanquer. They were joined by a panel of personalities including Nobel Peace Prize laureate, Malala Yousafzai, among others.
French president Emmanuel Macron delivered the closing remarks.