Françoise de Bellefroid was President of MMM, then World Movement of Mothers, from 1992 to 2000. She passed away in Brussels this Summer leaving 24 grandchildren and 24 great-grandchildren!

We would like to pay tribute to an exceptional human being to whom Make Mothers Matter owes a lot.
Françoise Jourdain was born in Belgium on 26 October 1925. She came from a family of industrialists and founders of the newspaper Le Patriote, set up in in 1884, which became Le Patriote illustré, and then during the First World War, La Libre Belgique.
She married Maurice de Bellefroid in 1946. They had 7 children. She was widowed in 1975.
The cause for which she fought all her life was the cause of mothers.
She told us that it was in 1975 at the UN Women's Conference in Mexico that she became aware of the danger that feminist ideologies could represent for motherhood. With very laudable and necessary goals to end unacceptable injustices, feminism deliberately ignored the specificity of motherhood.
While recognising the immense benefits of feminism, Françoise continued to draw attention to the importance of recognising the value of motherhood and the role of the mother.
As a result, in 1976, when the feminist movement was in full swing, she chose to draw attention to the value of mothers' work with their children and families and created Femmes au Foyer in Belgium. This provocative name was chosen out of defiance, she said, following the example of a French group created in 1975.
In Brussels in 1983, she signed with representatives of French, German and Italian groups the statutes of the Fédération Européenne des Femmes Actives au Foyer (FEFAF) because, she said, "Europe could not be built without the women who devoted most of their time to their families".
But Françoise did not want to limit herself to housewives and joined the World Movement of Mothers attracted by our mission to promote and value the role of mothers not only in the family but also in society and with policy makers. Françoise was convinced that it was necessary to integrate mothers into political decision-making because of their specific role and vision.
She joined the MMM Board in 1989 and became President in 1994. On behalf of MMM, she participated in many international UN conferences: Cairo in 1994, Copenhagen and Beijing in 1995, Istanbul in 1996.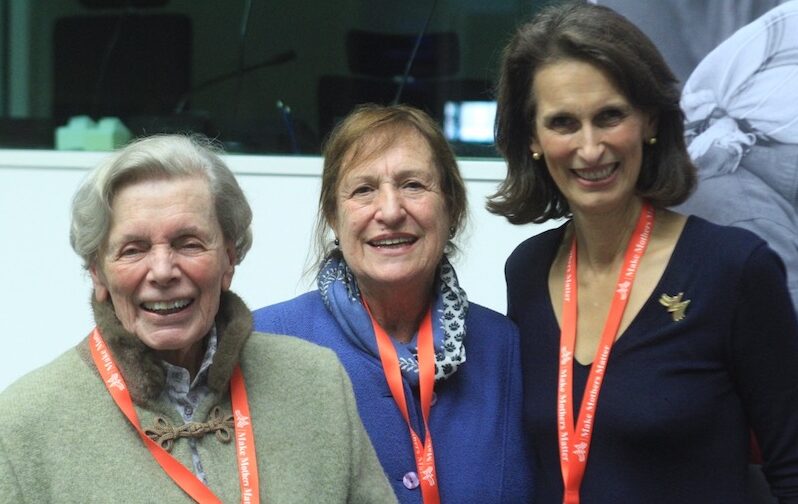 Photo above:  3 MMM presidents – from the left: Françoise de Bellefroid (1992 to 2000), Jill Donnelly (2000 to 2008), Anne-Claire de Liedekerke (2014 to present)
At the end of her mandate, she created in 2002 the European delegation of the World Movement of Mothers (MMM Europe) of which she was president until 2009.
Over the years, her commitments, the responsibilities she took in civil and associative life, and her competencies earned her not only respect in the circles where she was active but also a very prestigious recognition: in 2012 Françoise was named Commander of the Order of Leopold by the Belgian King Albert II.
Françoise was a modern feminist until the end of her life, convinced that equality between men and women would only be achieved when motherhood was also taken into account.
She also remained close to MMM until the end, keeping abreast of the direction and development of what had become Make Mothers Matter.
In age we may have been more than 30 years apart but it never felt like it. I can say that Françoise was not just a mentor but also a friend. I loved her strong and committed personality, the flame in her eyes, her curiosity about the world, and her strong and courageous opinions.
Dearest Françoise, on behalf of all the MMM teams, I pay tribute to the inspiring president that you have been. We are aware of what we owe you. You will remain for us a source of inspiration and a strong example. We thank you and we will not forget you.
Anne-Claire de Liedekerke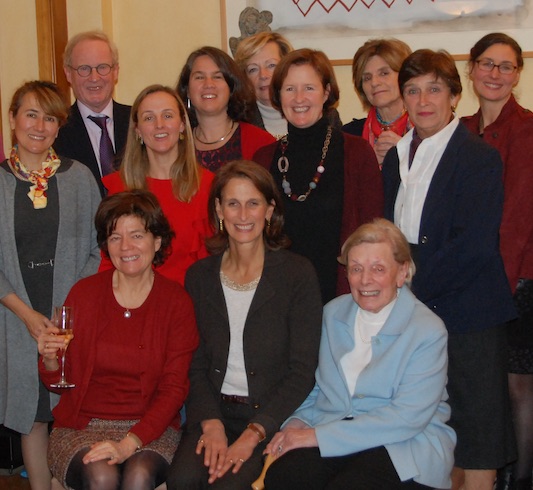 Photo above: Françoise de Bellefroid (right on the first row), with MMM teams at the 15th anniversary of the EU delegation in October 2017