We are happy to join the #WhatWomenWant campaign meant to hear directly from at least 1 million women & girls worldwide about how they define quality, equitable and dignified maternal and reproductive healthcare.
It is launched 11th April the International Day of Maternal Health and rights with The White Ribbon Alliance, The Partnership for Maternal, Newborn & Child Health International Confederation of Midwives Every Mother Counts Mamaye among others.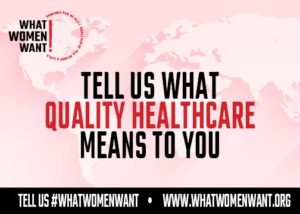 We call all women and girls to complete the online survey available in several languages. Findings will be aggregated for a global picture of what women want and disaggregated by country, ultimately distilled to reflect the main asks along with specific recommendations about how to drive tangible improvements for women's and girls' health.
Please join the Movement!