UN Geneva / World Health Assembly - In a side-event on Early Childhood Development, Make Mothers Matter highlighted some of the challenges that mothers face to ensure that their child develops to their full potential.
Thanks to advances in developmental neurosciences, we know that the early life experiences shape the future capacity of the brain, and have a direct – positive or negative – influence on the physical, cognitive and emotional health of a child. What children experience during their early years, including in utero, sets a critical foundation for their entire life course.
Moreover, while both parents are the child's first caregivers and educators and fathers have a very important supporting role to play, it is mothers who are at the forefront of Early Childhood Development during pregnancy and the early years of childhood.
However, mothers must face a number of challenges which do not concern health alone and cut across other sectors like social welfare, education, and labour:
Barriers to breastfeeding
Multiple stress on the family
Violence against women and children
Overlooked maternal mental health problems
Parenting skills.
During its intervention at a side-event to the 71st World Health Assembly on Early Childhood Development, MMM developed these issues and provided recommendations for a cross-sectorial / multistakeholder approach to ensure that every child develops to their full potential through adequate Early Childhood Education and Care.

Full text of MMM Intervention
The event was organized by the Alliance for Health Promotion: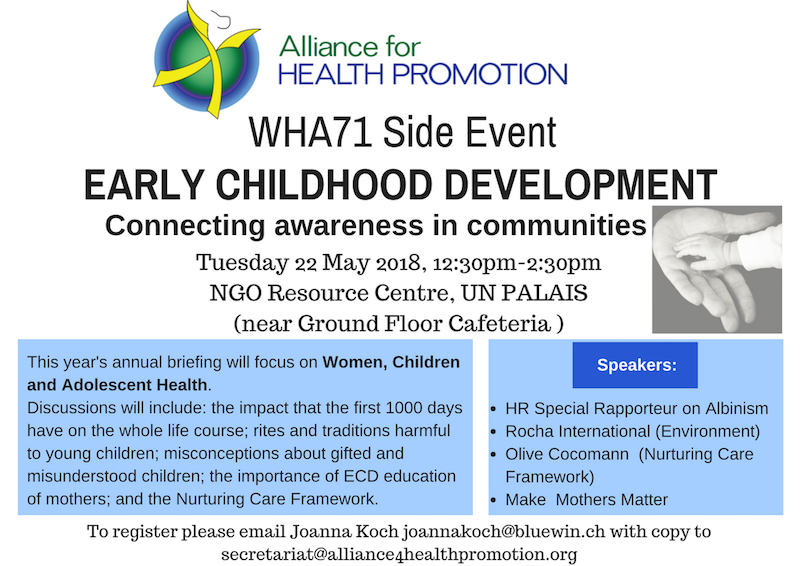 It is also at this year's World Health Assembly that the World Health Organisation (WHO) and its partners launch "Nurturing Care for Early Child Development: A Framework for Helping Children SURVIVE and THRIVE to TRANSFORM Health and Human Potential." – the result of a large multi-stakeholder consultation in which MMM also participated.