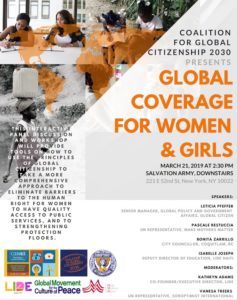 Organized by the Coalition for Global Citizenship 2030 and Soroptimist International, the event took place on 22nd March at the Salvation Army in New York. Its main objective was to explore how the core principles of Global Citizenship could also apply and support access to public infrastructure and services and the social protection of women and girls.
The intervention of Pascale Restuccia, our representative at the United Nations in New York, focussed on those social protection policies that are more relevant to mothers – i.e. that address the specific needs of mothers in terms of health and income security, as well as the care gap.
Maternal Health and Maternity Protection
The example of the United States, where maternal mortality has been increasing, demonstrates the importance of social protection measures for mothers, which have proven successful in many countries:
Maternity protection, including maternity leave and income security around childbirth
Access to high-quality healthcare, including mental health, with both antenatal and postpartum visits for information and identification of high risks.
In a recent report on social protection, the International Labour Organisation emphasises that maternity protection is a "key component for transformative policies in the 2030 agenda and is essential to the achievement of many SDGs". Yet, globally only 41.1 % of mothers with new-borns receive a maternity benefit – and only 15.8 % in Africa.
Health is the cornerstone of human development and a fundamental right. Healthcare is especially crucial for women during pregnancy and around childbirth – when it can make the difference between life and death – both for the mother and the child.
Quality healthcare service is also essential during the first months of life to maximize the chances of survival and healthy development of children. Social protection should go beyond essential healthcare in supporting parents, especially mothers in vulnerable situations, to ensure that every child receives the nurturing care that will support his or her full potential development and make a difference to their future.
Healthcare infrastructure including health centres and qualified health professionals that offer high quality maternal and child health services that are accessible to all – e.g. universal health coverage – is a basic element of social protection. It must also be considered as one of the best investments a country can make, for both women's empowerment and children's development.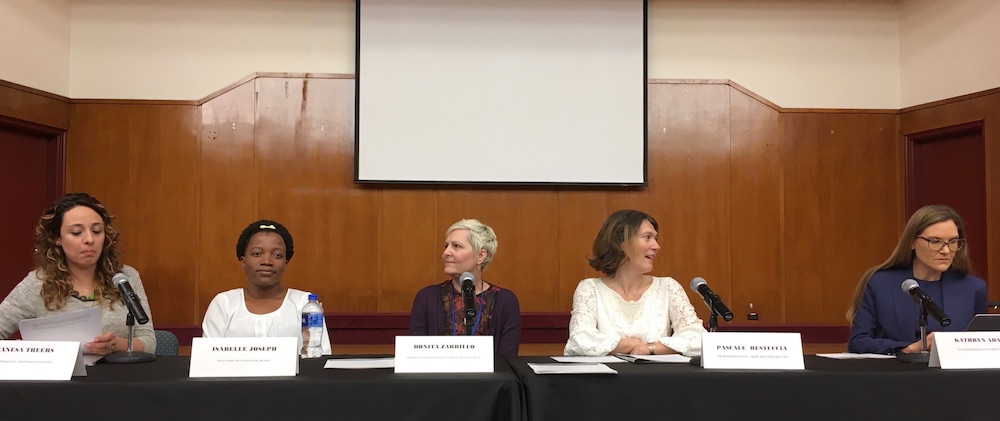 An example of good practice: Protection Maternelle et Infantile (PMI) in France
Created in 1945, the PMI is a government-run institution with a socio-medical remit. Aimed at reducing maternal and child mortality in the aftermath of the war, it has become a pillar of maternal and child well being ever since.
PMI focuses on prevention and screening for women and infants, and in the training of childcare workers and the management of childcare facilities. Almost 20% of mothers to be and children under the age of six are followed by a professional in one of the 4'600 centres around the country. Free of charge and accessible to all, it places special emphasis on those most in need:
During pregnancy, mothers-to-be receive screenings and medical supervision
After childbirth, home visits are scheduled if a concern is raised by social workers
Children are vaccinated and screened for common illnesses or handicaps
Talks on education and child development help new parents with capacity building for their role
Training and guiding childcare workers, who often happen to be mothers, give them a livelihood and ensure at the same time quality child-care.
PMI also has an important data-gathering mission, which can be very helpful for monitoring public health.
The Care Gap
Unpaid family care work comprises the essential work and responsibility of maintaining the household, educating children and feeding and caring for any family members. In poor rural households, women's work is also dominated by time-intensive activities such as water and firewood collection. This large share of unpaid family care work results in women's "time poverty" and greatly limits their ability to perform other income-generating activities.
According to UN Women, women carry out more than two-thirds of this unpaid care work. And in some countries, women do up to 10 times more of this essential work compared to men.
Addressing the inequitable distribution of unpaid family care work, i.e. the "care gap", should be part of any social protection policy that seeks to empower women.
Investments in public infrastructure and services must be directed at reducing women's time poverty and the time they spend on unpaid domestic chores and care work. Key infrastructure developments are needed including clean energy, clean water and sanitation, but also transportation, and mobile communication and information services. And last but not least: as the first beneficiaries, women must be involved in the implementation and the management of these infrastructures.
Among other recommendations, we at MMM also believe that governments must ensure a minimum pension or add "care credits" in the calculation of pensions for mothers (or fathers) who interrupted or reduced paid work to look after their children or needy relatives.
In many countries around the world, mothers and children need more – not less – social protection.