Statistics show that at the current pace, closing the gender pay gap between men and women would take more than 250 years.[1] The European Commission (EC) has finally published its proposal for a Directive to introduce pay transparency measures.
Make Mothers Matter (MMM) participated in the public consultation "Transparency on pay for men and women" in May 2020, an initiative aimed at gathering feedback from stakeholders before launching the proposed Directive. Previously, we had also given our feedback to the public consultation on "equal pay".
MMM welcomes the proposal as it is an important and necessary step towards closing the pay gap, which currently is substantial – on average, women in the EU earn 14.1% less than men in comparable positions.
More precisely, MMM welcomes the below measures which we proposed in our recommendations:
Relaxing the comparator requirement  by allowing a hypothetical comparator to be used instead of an 'actual' one;
Companies with at least 250 workers publicly have to report on gender pay gaps;
Employees' right to obtain information about average pay levels;
Giving equality bodies and workers' representatives a more important role by giving them legal standing;
Shifting the burden of proof onto employers if employees suspect there is a gender pay gap
The Gender Pay Gap cannot be tackled if it is not made visible. The proposal Directive is therefore an important tool to close the gap, but it is only part of the answer.
It is encouraging to note that in the explanatory memorandum of the proposal, the EC considers other root causes of the gender pay gap, including unpaid care work.
For too long, unpaid care work has been put aside in the debate over gender equality. However,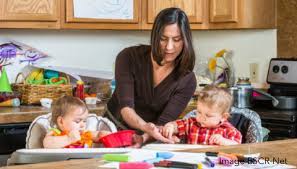 the fact that women, especially mothers, perform the largest share of unpaid care work has a strong effect in perpetuating women's lower labour force participation over the life course and women's disproportionate participation in precarious employment, reinforcing the gender gap in pay and pension. This is an issue that MMM has been advocating for since its foundation in 1947 and has recently been put under the spotlight by the European Institute for Gender Equality[2] in a report highlighting that women's disproportionate share of care work is one of the main root causes of the gender pay gap.
Without someone investing time, effort and resources in these essential daily tasks, communities, workplaces, and whole economies would grind to a halt.[3] Yet it is not recognized, not valued, and perpetuates gender and economic inequalities.
Therefore, we at Make Mothers Matter calls upon the EU and Member States to adopt policies which recognise, reduce, and redistribute unpaid care work as we detail in this paper.
[1] http://www3.weforum.org/docs/WEF_GGGR_2020.pdf
[2] entitled "Gender inequalities in care and consequences on the labour market"
[3] https://indepth.oxfam.org.uk/time-to-care/