In these unprecedented times, when Europe is navigating a global pandemic, when political tensions are boiling over threatening to destabilize the global order, it is vital to reflect on the people who hold the fabric of society together. The pandemic has shone a light on the front-line workers, who continue to save lives every day, even if it means risking their own. Many of these workers are mothers, but for them, care work does not end at the hospital or nursing home.
Behind the scenes, in millions of homes around the world, mothers have another crucial role: they work every day to ensure that their families and children are fed, nurtured, educated and healthy. This work, also known as unpaid family care work keeps families, communities and businesses running. This is a process that has gone on for decades, with mothers shouldering the greater share of care. It is time for change. It is time for this invisible and inequitable care work to be recognised and shared. Only then can we truly celebrate mothers in the way we should.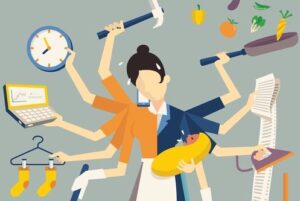 Unpaid family care work is indispensable. Yet it is not recognized, not valued, and generates poverty and discrimination. Given that the responsibility for doing unpaid care work falls disproportionately on women and girls, this is particularly damaging to them. Globally, women do three times more the unpaid care work done by men, and up to more than five times in poor, rural areas. This trend is likely to increase as women are expected to do the lion's share of care for an ageing global population.
The United Nations, Oxfam and others point to the multiple challenges that women face given their inequitable unpaid yet indispensable care workloads. These include chronic time deficits that exacerbate women's time poverty, in turn limiting their ability to participate in economic, political and social activities including opportunities for education, employment, entrepreneurship and participation in political and social life.
At the European Union Delegation, we work to influence policies and legislation to support mothers, by bringing

about visibility and recognition for their Unpaid Care Work, and redressing the inequalities they face because of it.
Last year, the European Commission announced its new plan to develop a European Care Strategy expected to strengthen long-term care and early childhood education and care. The strategy will further help reinforce gender equality and social fairness. When it comes to policies related to care, the EU has the power to guide and influence how countries shape their policies and can suggest a line of action to set higher standards and encourage countries to raise their ambitions.
To aid the development of the Strategy, MMM contributed to the European Commission's Calls for Evidence on the European Care Strategy, the Revision of the Barcelona Targets on childcare and on Access to affordable and high-quality long-term care. In addition we contributed to joint answers with other civil society organisations: the Social Platform, the Alliance for Investing in Children and with a group of NGOs on migrant care providers and service users. We also drafted a policy paper tabling  numerous recommendations to policy makers on the topic of Care.
We covered a variety of topics such as maternal health, gender equality, work-life balance, and pensions amongst others. As we have seen, mothers are key care providers and it is crucial to recognize their invaluable contribution to society.
In addition to the recognition of mothers' unpaid work, MMM believes that this work should also be reduced through supportive childcare policies and services, respectful of families' choices and children's development.
Unpaid care work should be further redistributed to close the gender care, employment and pension gaps. It is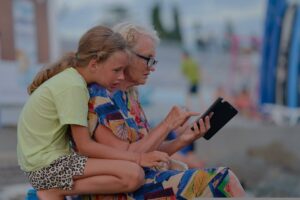 essential that fathers have the ability – culturally, financially and time-wise – to take an active role in the upbringing of their children. Other actors such as grandparents also play an important role in the education of grandchildren and support to their parents. In several EU Member States, systems of care credits towards pensions of parents and grandparents have been emerging. MMM will encourage such initiatives in the hope that the European Care Strategy will include such innovative practices in an intergenerational approach.
The private sector also has an important part to play. Recognizing, valuing, and supporting unpaid care work could benefit both employees and employers. For employees this means an improvement in work-life balance and wellbeing. While for employers the benefits include talent acquisition and retention, productivity and employment engagement. Such initiatives are part of a circular approach to parent's careers in which competences between family and work life are transversal.
MMM strongly hopes that the new Care Strategy will recognize the crucial role mothers play when it comes to care, and put forward a set of transformative policies that redress the economic and social inequalities they face when it comes to unpaid family care work.